So, you finally managed to start your podcast. Nothing can beat that feeling, right? You are very excited, at the same time, have huge expectations from it.
And why wouldn't you? All the hard work you have put into researching, interviewing experts, promoting brands, and gathering actionable tips must cultivate a great response.
Wait! You are missing one important thing. Where is your podcast promotion marketing?
Don't tell me you still believe in the "Create and they will come."
Realistically, you know this no longer works. Right? Statistics suggest that there are over 2.4 million podcasts with over 66 million episodes. To stand out, you need more than quality content.
What works today is: to create, market, and grow. So, if you have completed your first step by creating a podcast, now is the time for podcast promotion so it can reach millions.
This article will teach you tips and tricks to spread the word about your podcast.
Let's get started:
1. Focus On Email Marketing
Email marketing is one of the best ways for your podcast promotion.
If you already have an email list ready, that's a win. And if you don't, you should get one because email marketing is the way to have a handful of podcast listeners even before it hits the floor.
Laurence Bradford, owner of Learntocodewith.me, had a ready email list she gathered from her consistent blogging.
Here's a part of an email she shared to announce her first podcast:

What's so special about this mail?
In her mail, she clarifies that her users will get another type of special content instead of a blog post this time. This will make users wait curiously for the new launch.
After sharing the arrival of your new podcast, you can continue to promote your latest podcast episodes in newsletters, just as you would promote your blogs.
Look how Emma Lemke, a business coach, promotes her latest podcast episode in this email. The perfect use of visuals in the header, along with a brief episode description and the CTA, is a great way to drive podcast traffic to your landing page.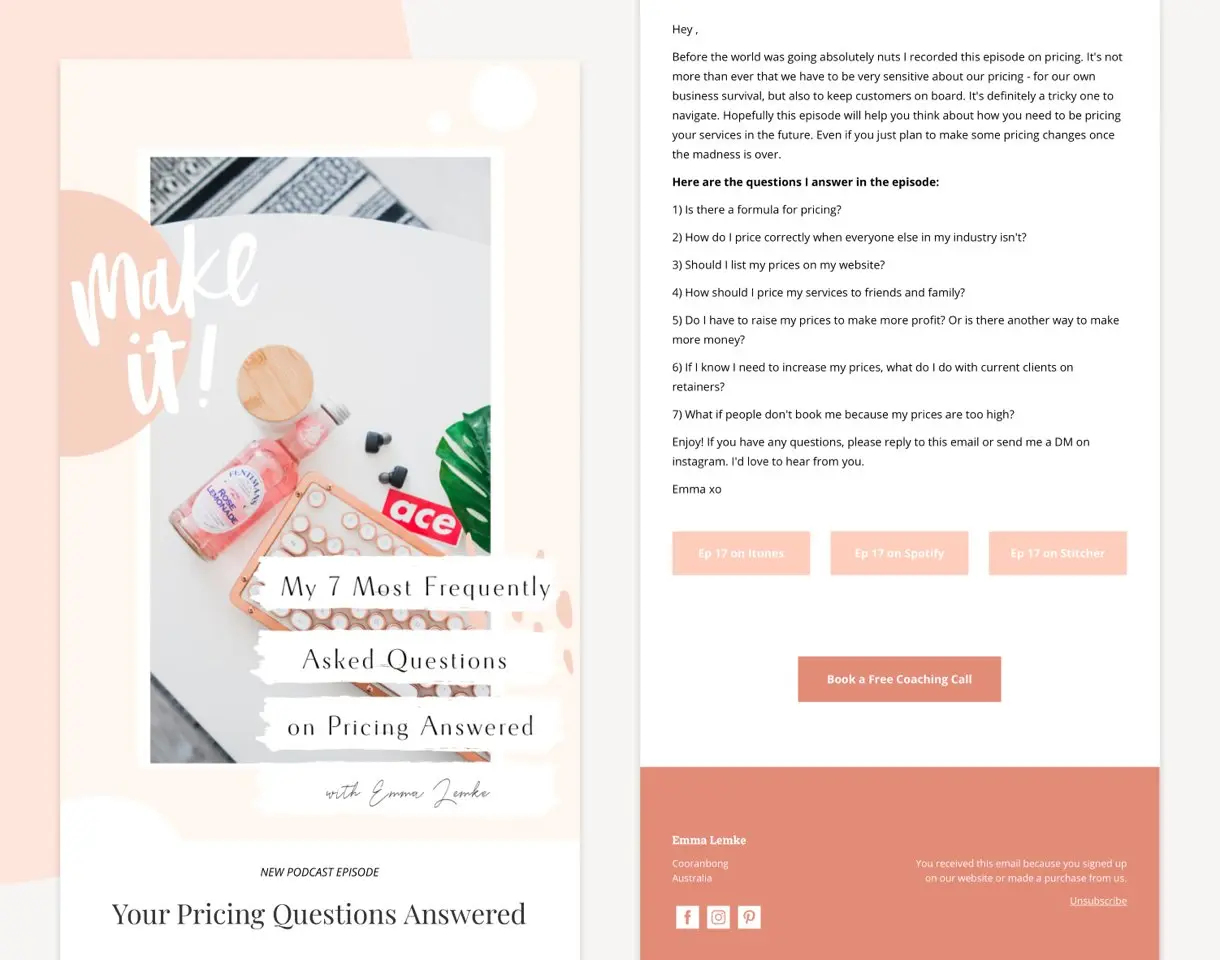 2. Leverage the Power of Video on Social Media
Social media platforms provide you with both the audience and tools you need to promote your podcast in the most creative way possible and generate maximum exposure.
There are dozens of way to promote your podcast episodes on social media, but the best way is to turn your episodes into videos.
Start with Youtube and upload your podcast on it as a full-length show.
In the beginning, you don't need a proper video. Just turn your podcast audio into the Mp4 format and play it over your podcast artwork as background, along with the captions and the audiogram graph.
Once the engagement starts rolling in, go ahead and start recording the video of your podcast sessions. If it's an interview podcast, then you will have to use podcasting tools that can also record your video calls.
We do the same thing with every episode of our podcast, "The Art of Social Media."
You can further repurpose the video on other social media channels by cutting it into bite-sized nuggets. Use short-form video features, such as Instagram Reels and Youtube shorts, to gain maximum visibility on your videos.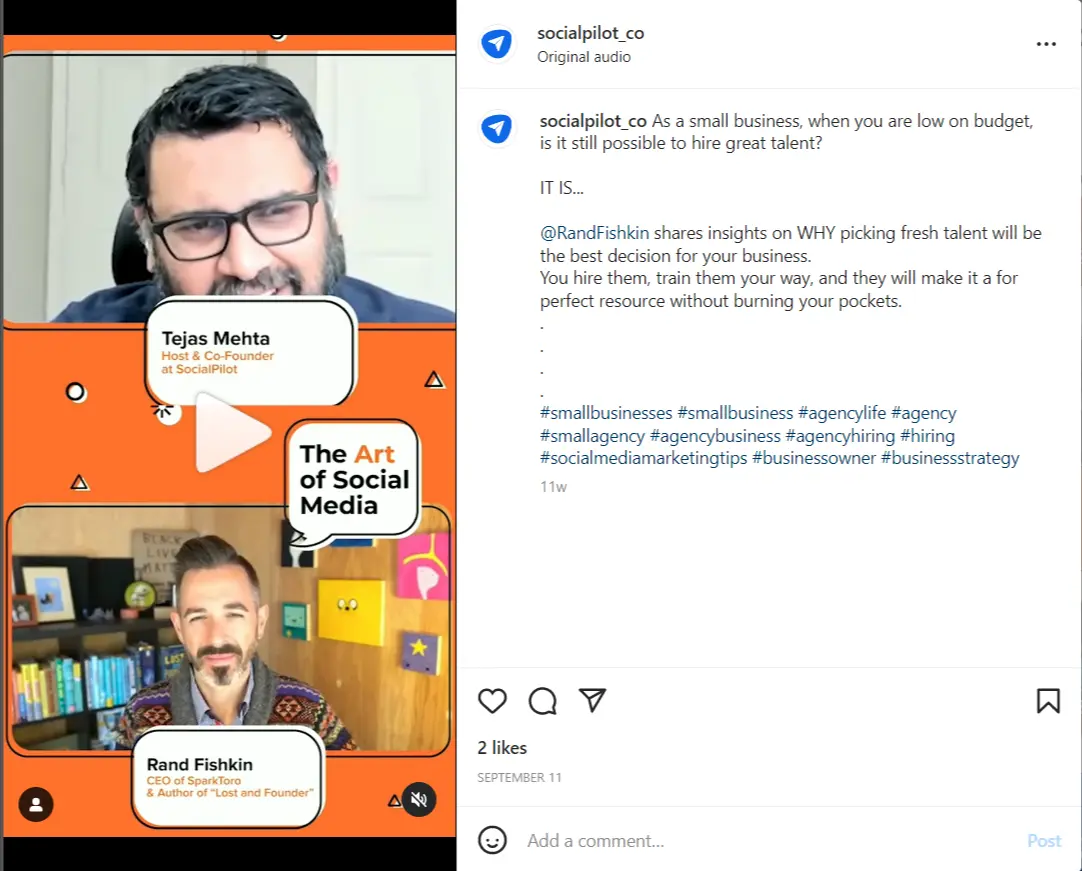 Are you finding it hard to manage podcast promotion on multiple social media platforms? Let SocialPilot make it super simple for you.
SocialPilot supports scheduling for every content type apt for podcast promotion on social. Be it the hour-long videos on Youtube or small video nuggets on Reels and Youtube shorts, schedule everything for multiple social channels at once. Doesn't that sound so easy? Well, it is that easy!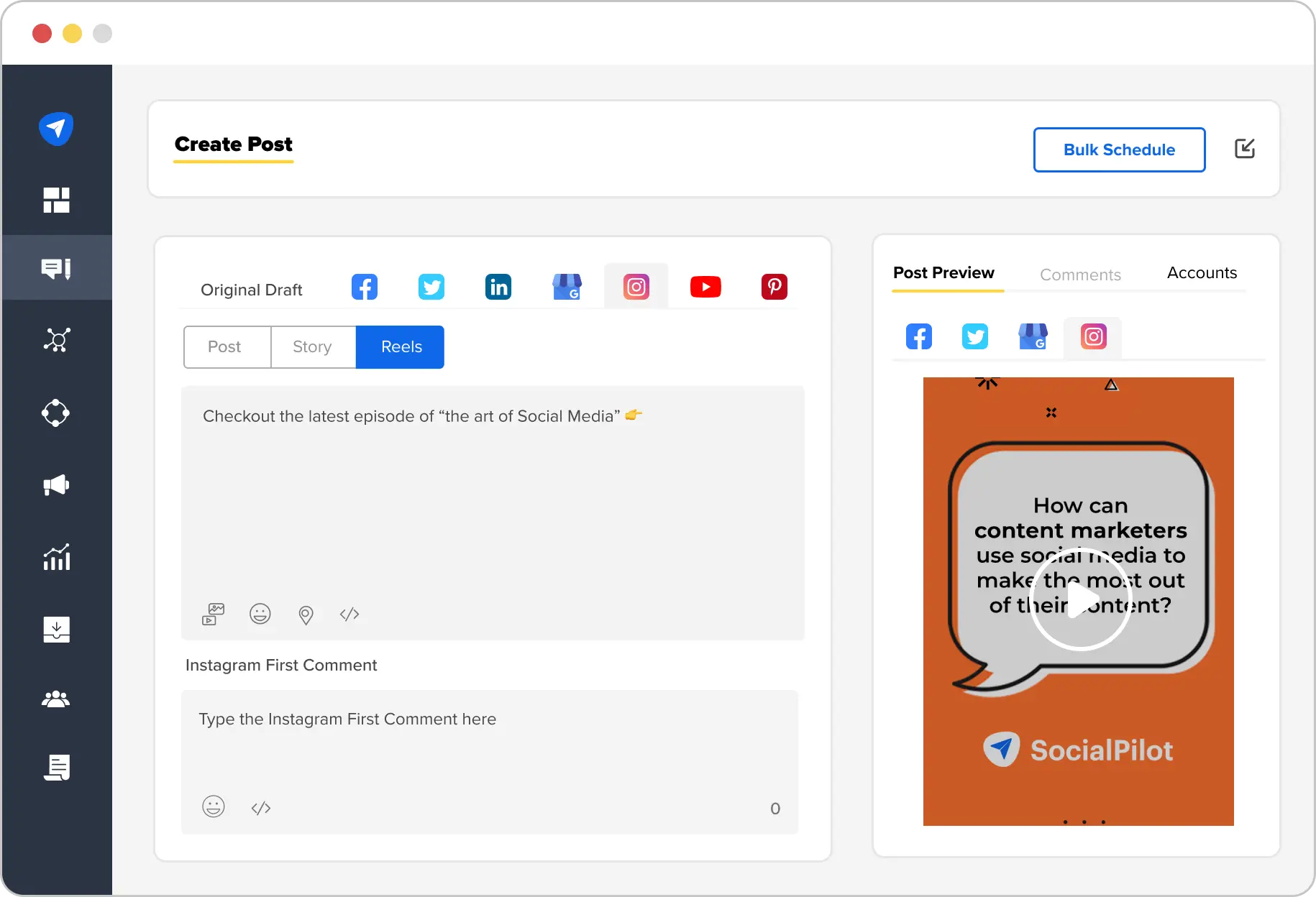 Start Your 14-day Trial
3. Run a Contest for your podcast promotion
A contest will do the trick even if your mail fails to entice the users.
You need a good amount of ratings and reviews to make your podcast rank well on podcast directories. Running a contest asking users to submit ratings and reviews in exchange for winning prizes will hike up your podcast's search results.
On her first podcast launch, Laurence announced a contest where users have to submit reviews if they want to participate. She offered three prizes, one was $600 worth, and the other two were $200.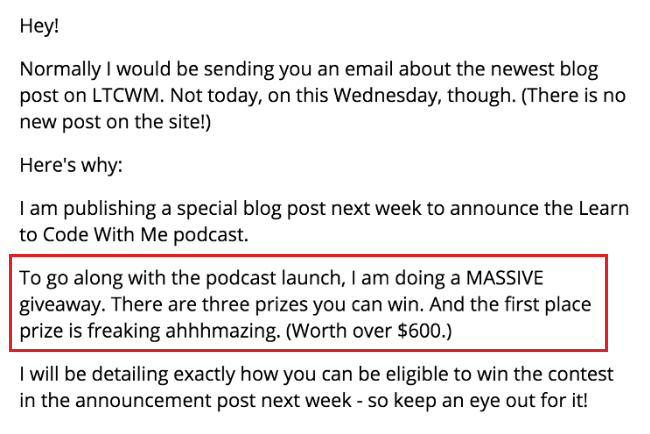 4. Collaborate with other Podcasters
As much as you would like to think otherwise, the truth is that, there are people out there who are covering the same niche as yours in their podcasts.
Believe it or not, collaborating with them is one of the best ways to promote your new podcasts. Make a list of podcasts targeting the same audience as you are and start reaching out to them. Make sure the pitch includes your expertise and your value proposition.
You can start with a simple promo swap, where they mention your podcast in their show and you do the same as well with the help of an audio trailer.
Did that work for you? Great!
Leverage the partnership more by inviting them on your show as a guest to discuss on the topic your audience loves.
In return, you can appear as a guest on their shows. In return, you can appear as a guest on their shows. Come up with topic ideas that aligns with the theme of their show and your expertise and mutually decide to pick one for the show.
After recording the show, both of you can share the podcast with your listeners via social media, email, and every other platform you would use to promote your podcast.
In a nutshell, networking is your best ally when promoting your podcast. Ray Blakney, host of the Learn Spanish with Live Lingua podcast, believes the same:
"A top way to promote your podcast is to appear as a guest on other popular podcasts in your industry. Every time you are interviewed on another podcast, you will be able to promote your own podcast show to new audiences and drive listeners back to your website or social media."
5. Submit to Maximum Podcast Directories
When it comes to podcast publishing, the "Apple podcast" is the first thing that comes to everyone's mind. With more than 28 million listeners, it is indeed one of the most significant places to release your podcast.
However, it is not your only destination.
For instance, "Spotify" is a great pick for connecting with non-iPhone users. It had recently dethroned "Apple podcast" by raking in 32.5 million monthly podcast listeners before losing it again to Apple just by a small margin.
Apart from these two, there are many other platforms that can give you the needed and better exposure. Plus, there is no downside to having your podcast uploaded on multiple directories. As a matter of fact, the more, the merrier. You must ensure that your podcast is accessible and well-distributed to gain as many listeners as possible.
Here's the list of directories where you can submit podcasts:
Apple podcasts
Spotify
Google Podcasts
Pandora
Stitcher
Podtail
Podbay
TuneIn
iHeartRadio
Blubrry
You can use podcast hosting tools to publish your podcast on these multiple platforms at once.
6. Make a "New and Noteworthy" Section Entry
Let's go back to the "Apple podcast." Buzzsporut claims, "39.3 percent of podcast listening happens through the Apple podcast."
So, if it doesn't exist in your podcast marketing strategy, you risk missing millions of listeners.
But that won't happen, because you will probably start with it. However, to reap a great deal of visibility for your podcast, just publishing will not do.
It would be best if you make an effort to land in the New and Noteworthy section. This front-page section is curated by Apple to promote the latest compelling podcasts. Getting a place on this page is a ticket to high engagement.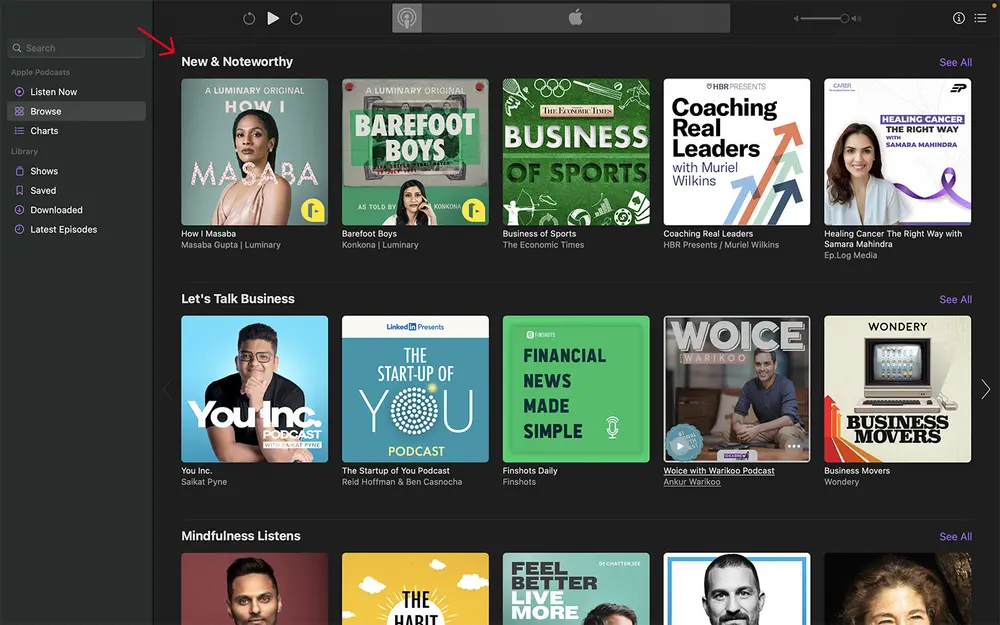 As Google puts high-ranking sites on the first page, similarly, Apple Podcast puts out the well-performing podcasts in their news and noteworthy section.
Your podcast goal is to appear there.
How to Enter the "New and Noteworthy" Section?
Same as Google, Apple never released any one formula to make it to the New and Noteworthy section. However, a few factors like rating, reviews, and subscribers can increase your chances of making the cut.
Here are a few steps you can start with to enter the zone:
Gather engagement: Apple looks at how well your Podcast connects with people and measures it by considering the engagement metrics of the platform. That means you gather as many reviews, ratings, subscriptions, and downloads as possible.
Create quality content: This goes without saying, but your content must be unique, fresh, compelling, and value-adding to your target audience. Mediocre content will not be able to generate organic engagement and hence won't catch the eye of algorithms.
Go sub-category: That's the same as going niche. Instead of choosing a broad category to submit your podcast, narrow it down to a sub-category so that Apple podcast gets a clear idea of what your podcast is about. This way, your podcast has more chances of being listed in the Noteworthy section.
Optimize your podcast listing: It's a no-brainer to upload only high-quality audio podcasts with compelling artwork that abides by the established requirements.
7. Promote it on Your Website
Podcast promotion is just incomplete without finding a home on your own website. A landing page of your podcast makes it easier for people to discover and engage with your show.
This will give you a central place to point people to when you're mentioned on other websites or on social media. Plus, it's a great way to control your show's branding.
Take a look at the landing page of the famous "The Smart Gets Paid" Podcast landing page. In the first fold, you will get links to different platforms to listen to the podcast. As you scroll down, you will learn more about the host and the list of episodes to engage more with the podcast.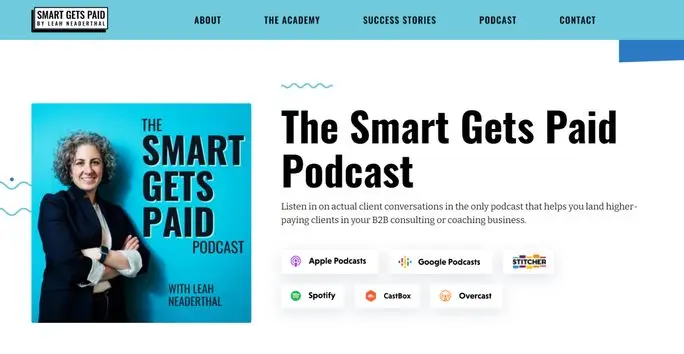 Here are a few things you can add to your podcast landing page:
List all the available directories
Embed the player on your website so people can listen directly from your site
Include clear calls to action on your website, such as "subscribe now" buttons or links to specific episodes
Put up a page where people can learn more about you and your co-hosts
What else?
You can write blog posts announcing the launch of your podcast and providing a link to where people can find it.
You could also write posts highlighting individual episodes and linking to them. To make the content interesting, summarize the transcript and arrange the flow of information by using quotes and key takeaways in between.
8. Add Website Pop-ups
Pop-ups are a great way to let your website visitors know about your new podcast. Creating pop-ups gives you a great chance to tap into the audience who frequently visits your website.
To grab attention and get people to take action, your pop-up must include the following:
The podcast name and a catchy description
The main artwork
A clickable CTA button to listen to the podcast
The pop-ups you see on Spotify are the perfect example.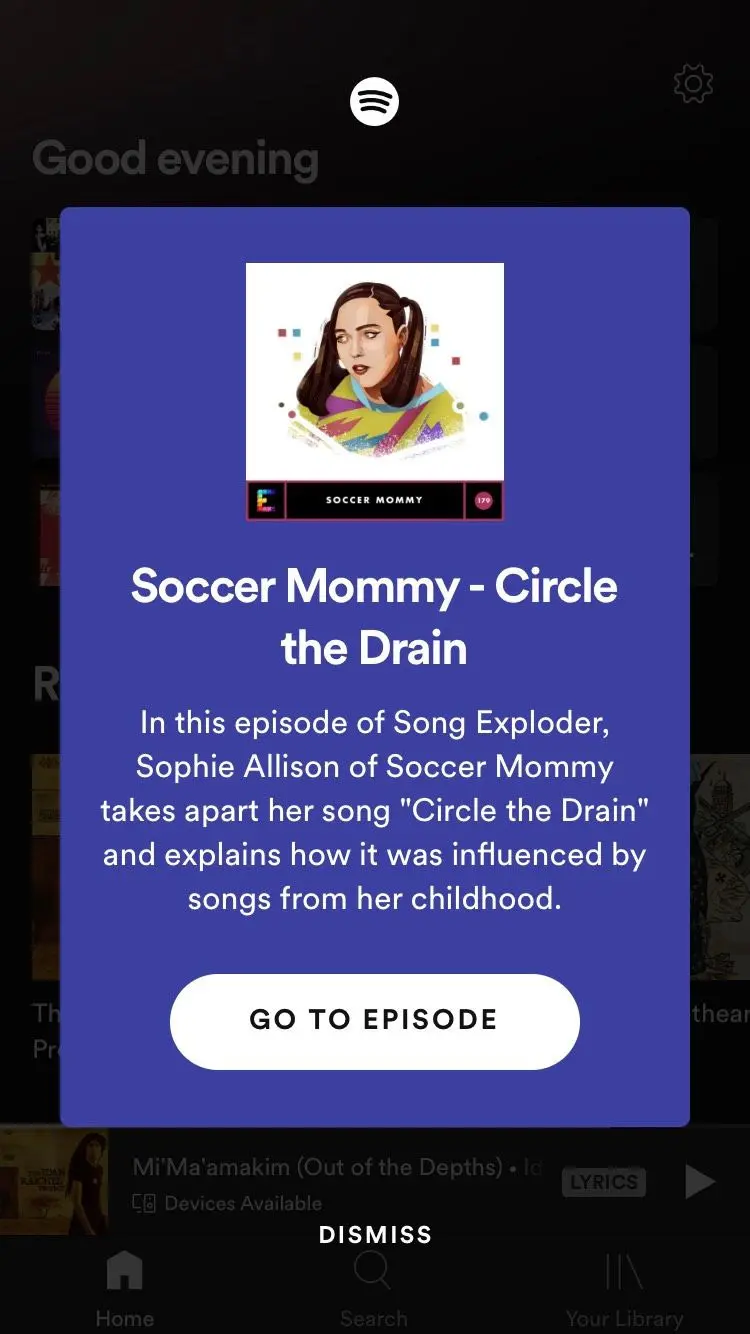 Remember to change the pop-up after the launch of your podcast. For e.g., With the first pop-up, announce your upcoming podcast, then re-make it when the podcast goes live, and if this method works, do it for every new episode.
In a nutshell
The Podcast space is no longer an alien territory. Everyday a new podcast is coming ashore and making rounds on the internet.
If you want your podcast to taste success, then it's important to understand how to promote your podcast. Luckily, there are multiple platforms that can get your show in front of multiple eyes.
Our above-curated list of actionable ideas includes most of the platforms necessary for podcast promotion. Depending on your target audience, you can start vetting each one and, with time, shift your focus more to the platform giving you the best results.
Happy podcasting!