Even if your team didn't make the cut this season, you can still enjoy the tailgate/watch party experience. Here are four recipes that are sure to top off the night. I mean let's be real—we're all here for the food and commercials anyways!
Let's get the party poppin'! Jalapeño Poppers are always a crowd favorite—especially when they're wrapped in bacon. Put these bite-sized babies on your game day menu.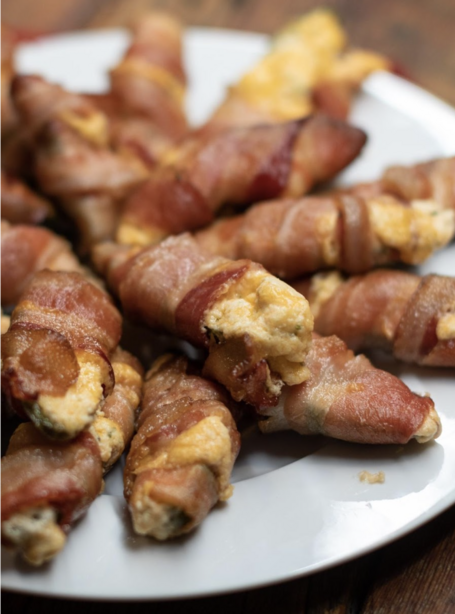 Ingredients
10 jalapeño peppers, halved, seeds and veins removed
12 oz. cream cheese, softened
8 oz. cheddar cheese, shredded
2 Tbs. chives, chopped
20 strips of bacon
1 Tbs. Camp Chef's All-Purpose Seasoning
Instructions
Preheat the pellet grill to 300 degrees F. Half the jalapeño, making sure to remove the seeds and veins. In a medium-sized mixing bowl, mix cream cheese, shredded cheese, and chives together. Spoon the cream cheese mixture into the jalapeño 'cups.' Wrap assembled cups in bacon and then place them in the pellet grill until the bacon has browned and crisped.
Attendees will be hovering over this toasty cheese blend. Thick, flavorful, and dynamic enough to serve with chips, pita, toasted bread, or veggies. We wouldn't fault you for making double batches just for your personal stash.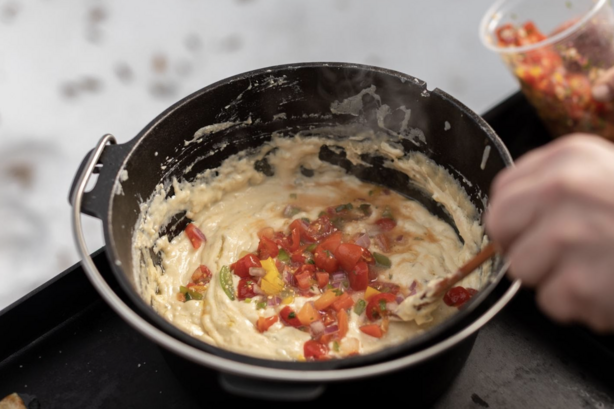 Ingredients
16 oz. extra-sharp cheddar cheese, shredded
8 oz. pepper jack cheese, shredded
8 oz. cream cheese, cubed and softened
2 Tbs. butter
1 shallot, diced
2 cloves of garlic, minced
1 jalapeno, seeded and diced
2 Serrano peppers, minced
1 ½ cups half and half or evaporated milk
1 Tbs. cornstarch
1/3- ½ cup white wine
Instructions
In a 10-inch Dutch Oven over medium-high heat, melt butter. Add shallot, jalapeño and Serrano peppers until soft. Add garlic and cook until fragrant. Mix cornstarch with a little water to make a paste and incorporate it into the pepper mixture. Add white wine and cook until some of the harshness has cooked out. Add the cream cheese and stir until smooth. Reduce heat to low and slowly incorporate the cheeses. Once the cheese has melted, the dip is done.
These Tri-Tip Sliders are layered with melty cheese, caramelized onions, and hearty slices of smoked Tri-Tip. Bring these handheld heroes out at halftime for a prime commercial watching.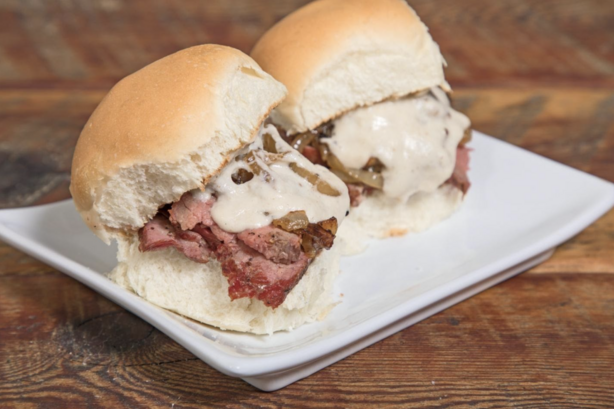 Ingredients
12-18 slider rolls
For the Tri-tip:
2-3 lbs. Tri-tip
Salt and pepper to taste
Garlic powder to taste
Olive or peanut oil
For the Garlic Cheese Sauce:
1 Tbs. butter
1 Tbs. all-purpose flour
2 cups whole milk
1 1/2 cups provolone and mozzarella cheese, shredded
1/2 cup Parmesan cheese, shredded
1 1 /4 tsp. Kosher salt
1 1/2 tsp. garlic powder
1/2 tsp. black pepper
For the Caramelized Onions:
3 yellow onions, sliced thin
3 Tbs. butter
2 Tbs. canola or peanut oil
Salt and pepper to taste
Instructions
For the tri-tip:
Preheat pellet grill to high smoke. Rub tri-tip with olive or peanut oil. Cover both sides liberally with salt, pepper and garlic powder. Place tri-tip in the pellet grill. When the internal temperature of the tri-tip gets close to 110° F, turn on the Sear Box to get it preheated to medium high heat. When the tri-tip reaches 110° F., remove it from the pellet grill and sear it on the sear box for 7-8 minutes on each side or until internal temperature reaches 130° F. Rest for at least 15 minutes in aluminum foil.
For the garlic cheese sauce:
On medium to high heat, melt butter in medium saucepan. Whisk in the flour and cook for 1-2 minutes. Slowly whisk in whole milk, whisking until thickened. Turn heat down to low and add cheeses. Stir until well combined. Season with salt, pepper and garlic powder.
For the caramelized onions:
Heat butter and oil in a large pan over medium heat. Add the onions, season with salt and pepper and cook slowly until onions start to get golden brown and caramelized, stirring occasionally. Finally, toast slider buns in oven. Pull buns out of the oven and build sliders starting with meat, cheese sauce then onions.
We promise we aren't playing favorites by adding this one to the docket. But, throwing a rack of ribs on the pellet grill might just be the easiest game day dish there ever was. You'll be able to feed the whole party while chowing down on these perfectly sweet and spicy Kansas City Spareribs.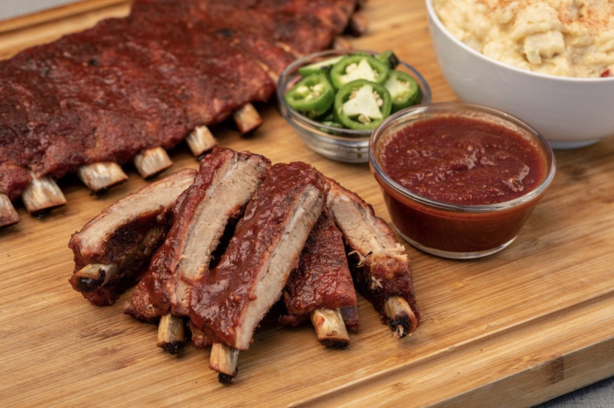 Ingredients
For the spareribs:
2 racks
spareribs
1/2 cup Camp Chef's Kickin' BBQ Rub or your favorite rub
2 cups apple Juice
For the BBQ sauce:
1 -14 oz. can of crushed tomatoes
1 cup ketchup
3/4 cup brown sugar
1/2 cup apple cider vinegar
1/2 cup molasses
1 Tbs. smoked paprika
1 Tbs. salt
2 tsp. ground black pepper
1 tsp. chili powder
1 tsp. garlic powder
1 tsp. onion powder
1/2 tsp. red pepper flakes
1/2 tsp. ground mustard
Instructions
For the BBQ sauce:
Combine all ingredients in a medium saucepan. Whisk. Bring to a boil and then reduce the heat to a simmer. Simmer for 20 minutes. Allow cooling completely before transferring to an airtight container. Refrigerate overnight for best flavor. BBQ sauce will last 2 weeks in the refrigerator if sealed tightly in an airtight container.
For the ribs:
Preheat pellet grill to high smoke. Remove membrane by scoring the back of the ribs with a sharp knife, then use a paper towel to remove. If you need a quick tutorial, check this out. Completely cover ribs with Camp Chef's Kickin' BBQ Rub or your favorite pork rub. Place the ribs on the grill bone side down. Spritz with apple juice every hour after the first hour. After five hours, baste with sauce and smoke for an additional 15 to 30 minutes. Remove, rest for at least 15 minutes, and slice between the bones.
Do you consider yourself a Super Bowl commercial pro? If you think you remember every iconic moment of the in-between-moments, take this quiz below and test your knowledge! Don't forget to enter your information at the end for a chance to win a Big Gas Grill 3-Burner by Camp Chef!
×
More stories you may be interested in