There are many pencils available in the Derwent ranges but for this feature I want to focus on the three that I use most within my own work – Derwent's Drawing, Lightfast & Chromaflow pencils. This doesn't mean that I don't also utilise some of the others not mentioned here in my work when I am looking for a specific application but these are more my 'go to' pencils. 
---
Derwent Drawing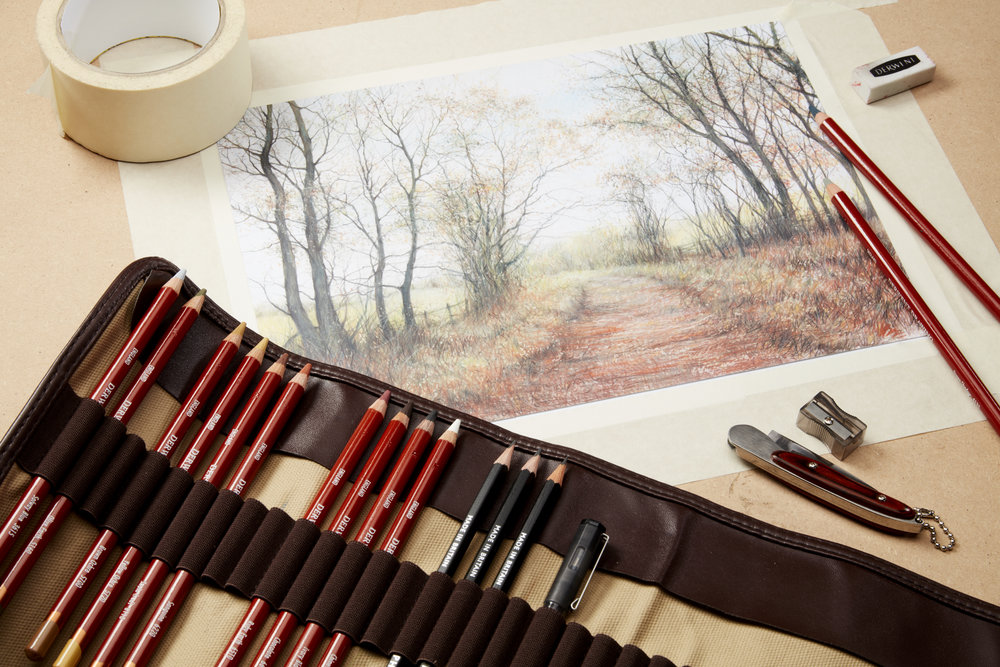 Starting with the range that has been around for the longest and those are the Drawing pencils. The Drawing range has a distinctive velvety finish and come in a limited but beautiful natural earthy colour range. These are ideal for wildlife drawings, nature studies and creative atmospheric, evocative landscapes. They are also used for portraiture.
I love to use these in my animal portraits to help speed up the initial laydown of pigment, especially when working on a textured support. They are opaque but soft and my other ranges then glide beautifully over them when used as a base. You can also use them on their own but it is slightly more difficult to get fine details because of the width of the core. That is when I will turn to one of the other ranges.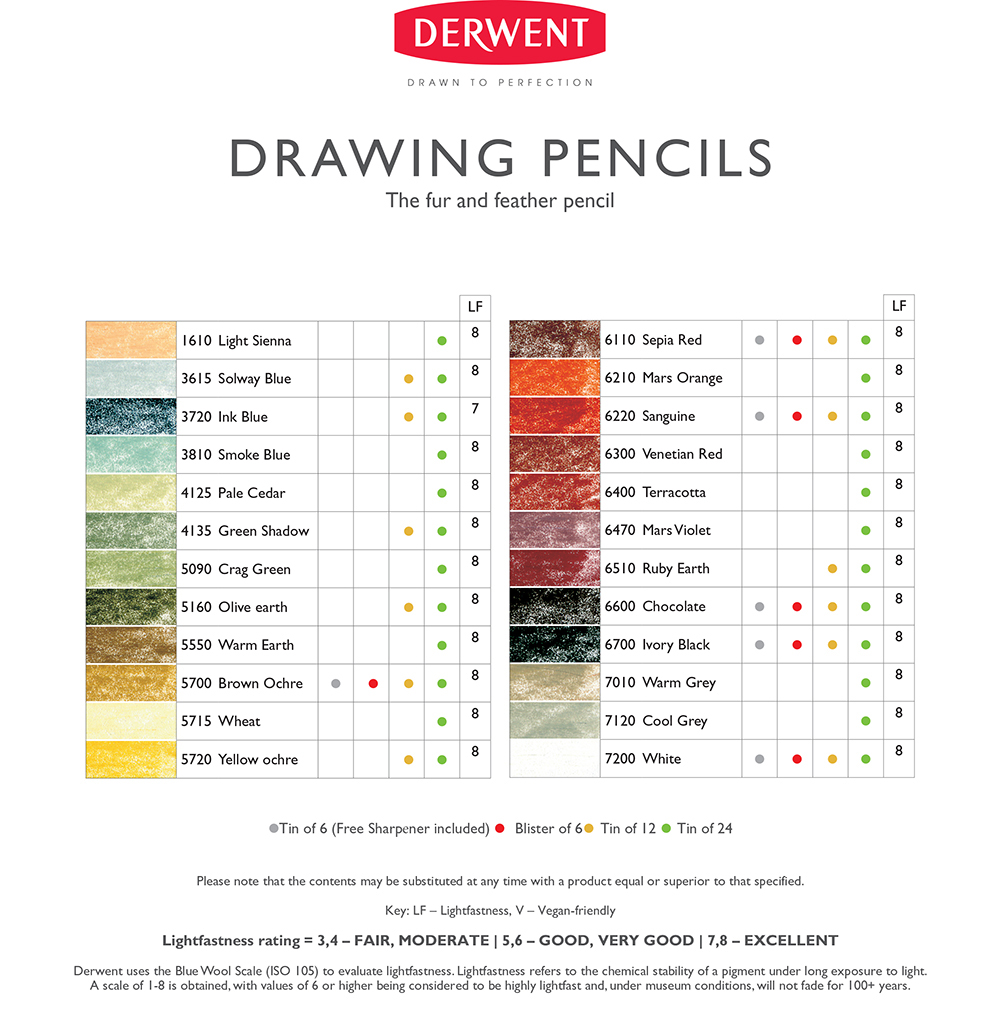 Derwent Lightfast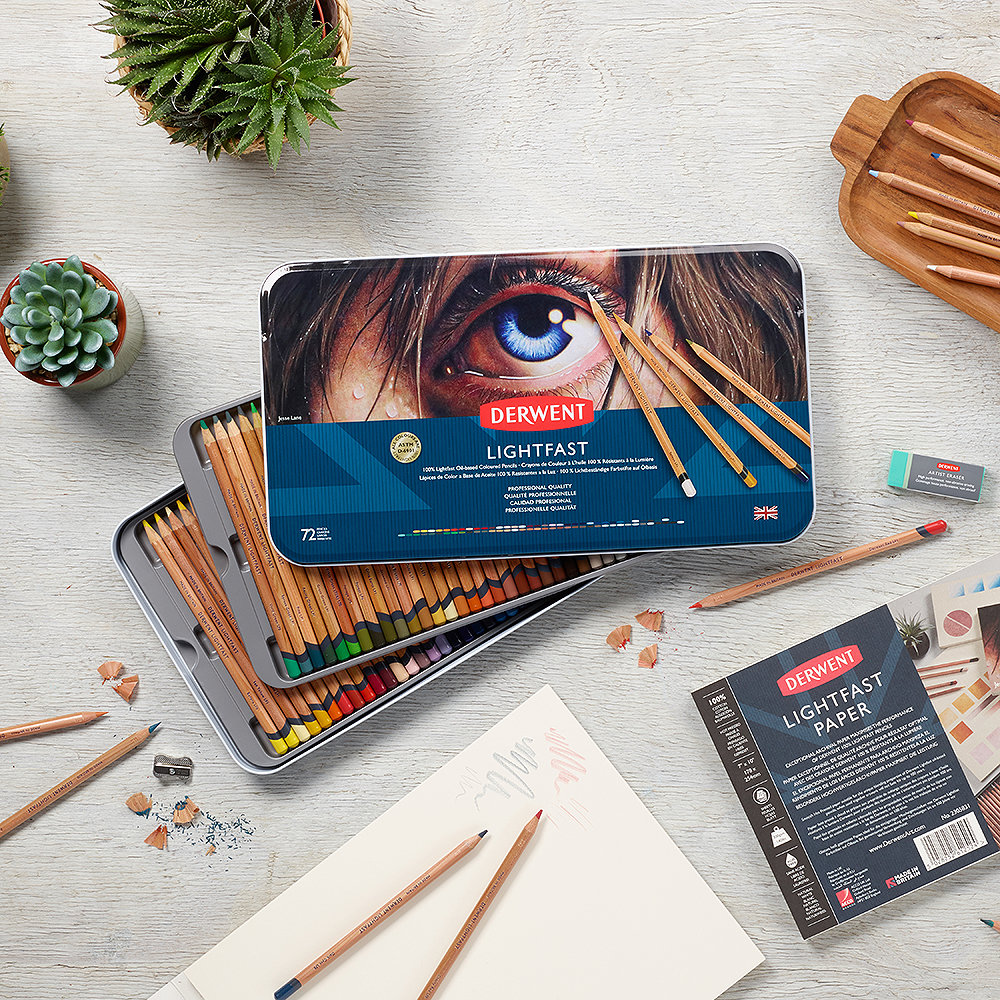 Derwent's Lightfast coloured pencil is their premium pencil or what I often refer to as their Rolls Royce of their ranges. Of the three ranges I am talking about today these have the biggest array of colours. I particularly love their range of whites and blacks. The Arctic is a subtle bluey white and the blacks include a Mars which has soft reddish tones and a Midnight Black which has rich dark indigo undertones. Of course there is a true white and black in there too.
The product information leaflet gives a breakdown of the pigments used in the creation of each colour so if you are a bit of a pencil nerd like myself this would be a great asset to download too.
The smooth, creamy laydown of opaque colour is compatible with oil mediums and produces a paint-like effect when dissolved with solvent. Lightfast have a strong point for ease of sharpening so are ideal for detailed drawings and defining negative space. 
I love that the Drawing and the Lightfast have a crossover of colour names so you can utilise say the Mars Violet (another fave) in the Drawing range for the underpainting of a piece and then use the Lightfast one to add details.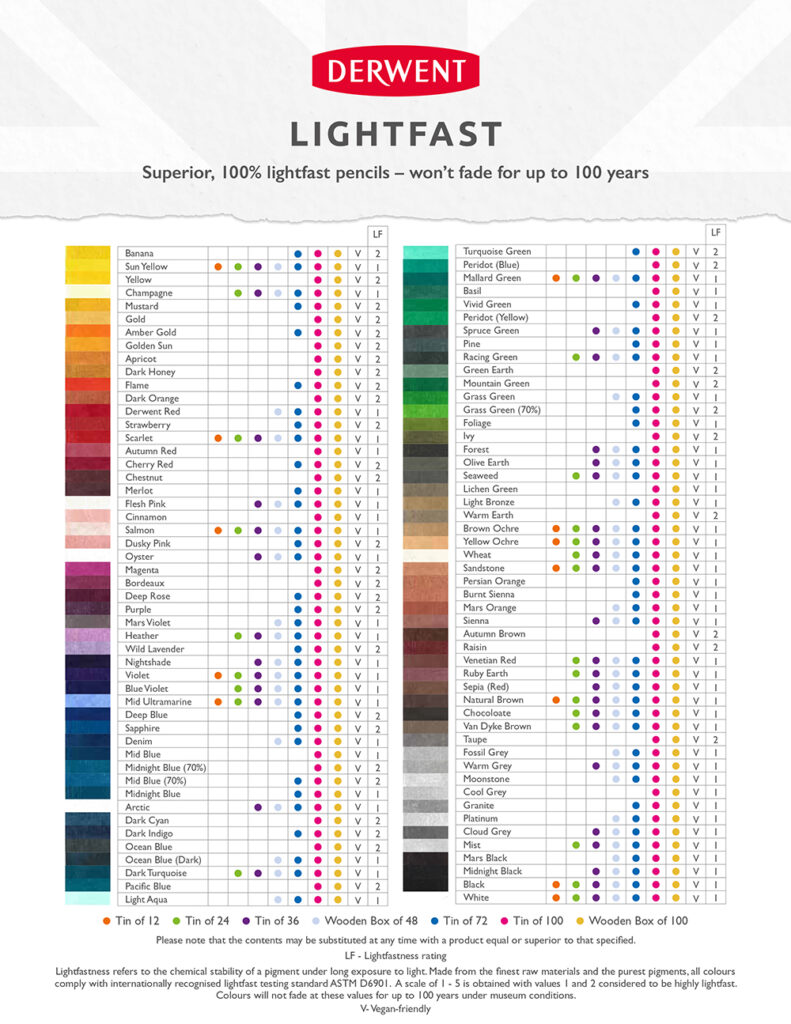 Derwent Chromaflow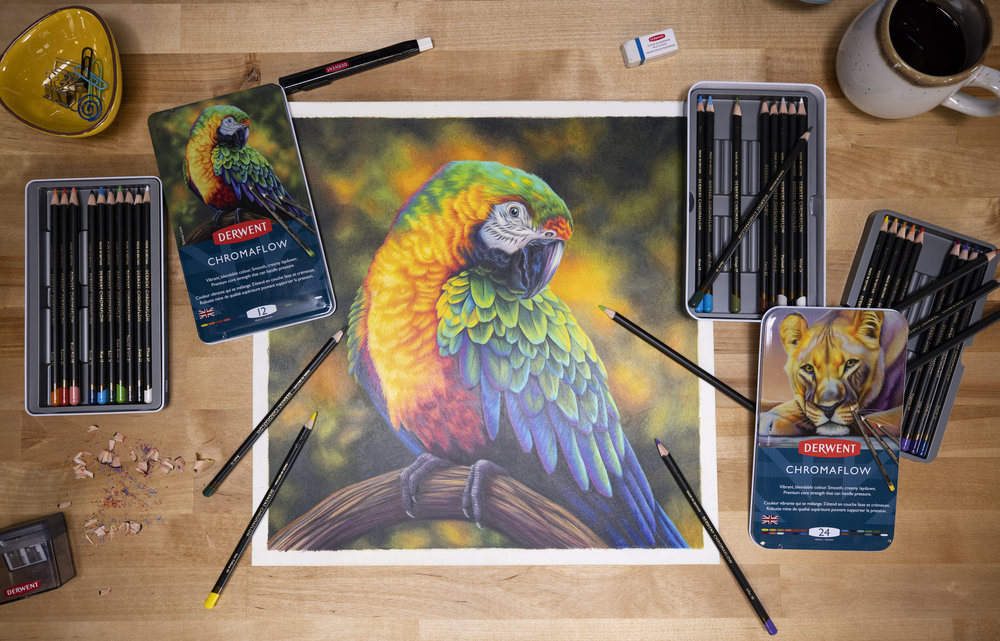 Finally, the new kid to the block is the Chromaflow range. The Chromaflow pencils provide artists with an affordable professional quality product which is easy to layer. The highly pigmented, smooth texture of the formulation allows for the colours to blend beautifully. They were initially brought out to compete with the popular Prismacolor range overseas but are now available worldwide.
Because of the high chroma (hence the name) Chromaflow will also cover a larger area more quickly so like the Drawing pencils, you can use these as the base to your work. You can sharpen these up to a fine point for details too though so are perfect to use solely on a piece. The high pigmentation allows the user to create striking work full of vibrancy to the colours. This is especially noticeable when wanting colour to stand out on black and mid tone papers.
They especially work well with Derwent Metallic and Coloursoft Pencils. Chromaflow pencils are also erasable so you can use this to an advantage to create highlights in your work.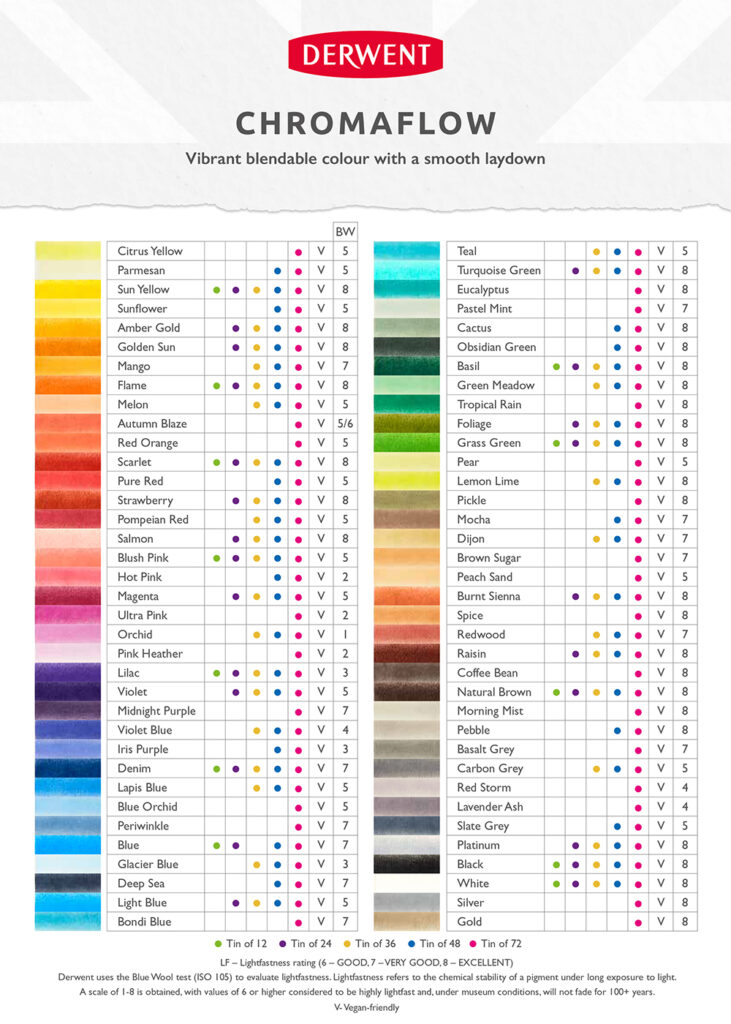 Chromaflow is a great value starter range
Although suitable for all coloured pencil artists, they are aimed particularly at students and hobbyists, for whom price is a determining factor. Chromaflow pencils offer a good quality of creative experience without breaking the bank, and are a great option for beginners to experiment with and build on their skills. This doesn't mean that professionals cannot use these pencils, it just means that you will need to factor in the lightfastness of some of the pencils ahead of using them. I for example would use them for creating a piece to make prints from and would keep the original if I had used any of the lower lightfast rating pencils in the mix.
One thing that is notable between the pencils is the look and feel of the pencils themselves. The Chromaflow are definitely thinner and lighter due to the size of the barrel and the type of wood used in manufacturing but this does not affect the quality of the cores.
A note about lightfastness
You will see in the colour charts  and also often hear artists talking about the lightfast qualities of their materials. The subject of lightfastness is a topic all of its own but there is a tonne of information online if you wish to delve further into this subject. Derwent uses the Blue Wool test (ISO 105) to evaluate lightfastness. Lightfastness refers to the chemical stability of a pigment under long exposure to light. In a simple lightfastness test, samples of a chosen material are prepared and exposed to natural daylight for several months, while a control sample is kept away from all light. The basic ratings are: 1 = Very poor (fugitive), 2 – 3 = Poor (fugitive), 4 – 5 = Fair (impermanent), 6 = Very Good, 7 – 8 = Excellent.
Derwent Chromaflow are 60% lightfast across 72 colours, LF – Lightfastness rating (6 – Good, 7 – Very Good, 8 – Excellent)
The Drawing and Lightfast ranges are 100% lightfast and therefore perfect if you are selling your original works. These are considered professional quality pencils and they are all of lightfast level of either LF1 or LF2. This, therefore, means that they are considered fully compliant with the ASTM 6901 and Blue Wool Scale ISO 105 standards.
A summary of the three pencil ranges I use
Here is a side by side comparison of the three ranges that I have put together so that you can compare more easily the key differences between them. You can find a full matrix of all of the Derwent pencils (except Chromaflow) here.
| Range | CHROMAFLOW | Lightfast | Drawing |
| --- | --- | --- | --- |
| Texture | Smooth creamy | Creamy | Creamy |
| Oil/Wax | Wax Based | Oil based | Wax based |
| Core size | 3.5mm | 4mm | 5mm |
| Barrel size | 7.2mm pine | 8mm maple | 8mm cedar |
| No. Colours In Range | Singles12,24,36,48,72 | Singles12,24,36.48.72.100 | Singles6,12,24 |
| Lightfast | 60% | 100% | 100% |
| Blendable – merging of colours | 5/5 | 5/5 | 5/5 |
| Erasable | 4/5 | 1/5 | 2/5 |
| Colour Intensity | 5/5 | 5/5 | 4/5 |
| Layering – (best performance over 12 layers) | 4/5 | 5/5 | 5/5 |
| Point Strength | 4/5 | 4/5 | 4/5 |
Watch the video
For more information about Chromaflow, and the full range of Derwent pencils we stock here. You may also be interested in our recent article about the full range of coloured pencils we stock.
---
Lisa Ann Watkins BA(Hons), AFC, CPCAM, UKCPS is well known in the world of coloured pencils as a multi award winning artist & tutor. 
In July 2017 Lisa set up her first formal teaching channel on Patreon. Lisa creates in depth videos & written tutorials for her online students every month & now teaches over 300 people around the world. She has also just released her first book with Search Press.  Lisa is a member of the prestigious tutoring teams of renowned art educators such as the SAA & Patchings Art Centre. She works closely with Clairefontaine and Grafix and is an official Brand Ambassador for Derwent Art.
You can keep in touch with Lisa on her website Animal Art by LAW and on her instagram or facebook pages.